Reputation Management Services
Reputation management is a technique for influencing stakeholder perceptions and public dialogue about a company and its brands.
Reputation Management Services
The process of safeguarding an individual's or organization's online image in order to affect public perception is known as reputation management. When individuals and search engines look for your brand online, internet reputation management ensures that the right content is found. Reputation management is a technique for influencing stakeholder perceptions and public dialogue about a company and its brands.
 To create your thought-leadership brand and achieve more online visibility, whether you own or manage a small firm or a multi-location enterprise, maintaining a positive internet reputation is essential. Our internet reputation management can help you achieve the finest results possible. Our service will assist you in maintaining a great internet image.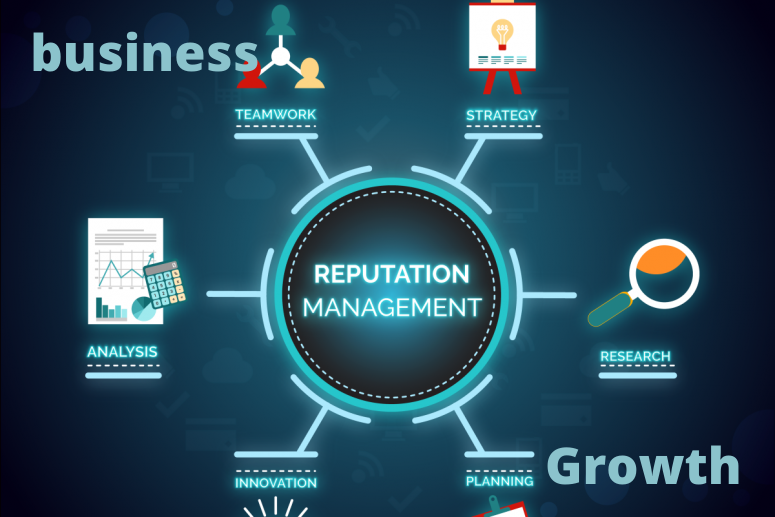 How reputation management works?
According to research, consumers read online evaluations nine out of ten times before making a purchase, and more than 62 percent will not purchase from a firm that suppresses customer reviews. Our Marketing Agency is a well-known reputation management agency that offers tailored services based on your brand and goals. Contact our reputation management firm to learn how to produce more reviews and streamline your brand reputation management.
Social Media Reputation Management
We are offering reputation management on social media. Tracking what users say about your brand on various social media platforms and engaging when appropriate to preserve a positive image is part of social media reputation management. This procedure is the management of a company's reputation. However, social media platforms are becoming increasingly crucial in how the public perceives a corporation; over 240 million people media in the United States alone.
Make an effort to recruit high-intent professional prospects
And seek to increase your client base. Customers are always weighing their options. Customers' internet reviews of businesses influence their purchasing decisions in over 97 percent of cases. Similarly, before making a hotel reservation, many travelers browse online evaluations. Review monitoring and reputation management are two aspects of internet reputation management that allow you to disseminate positive customer feedback across many web platforms and to your target audience.
Obtain positive feedback from customers
According to surveys, 92 percent of internet shoppers distrust a brand with no online reviews. In addition, 23% said it's tough to make a buying decision when there aren't any product reviews available. A reputation manager ensures that your business receives a steady stream of verified online reviews to help clients make informed purchasing decisions. A reputation management business will employ advanced reputation management tools to design your review-writing strategy and collect honest online reviews from satisfied customers.
Increase client loyalty and lifetime value
Employees who do well should be hired and kept. Your employees are critical to the survival and growth of your organization. As a result, one of your primary priorities should be loyal customer pleasure. Staff satisfaction and experience can be assessed, and actionable insights gleaned to aid in employee retention and recruitment. According to polls, 69% of job seekers would decline an offer from a company with a negative online reputation. To hire the best people and build your team, you should invest in a reputation management solution that focuses on your entire growth.
We'd love to discuss your project or world-beating idea with you.
Send us your details and we'll schedule a Free Marketing Consulting Strategy.
Boost the efficiency of your SEO campaigns
SEO reputation management is a terrific way to raise brand recognition, amplify consumer voices online, and enhance search ranks while also increasing the efficiency of your SEO camp operations. According to Moz, online reviews account for 15% of Google Local Pack ranking criteria. Our team looks at websites to see how they can boost user-generated content and traffic to your landing pages. To showcase your brand's trustworthiness and enhance your CTRs and Google rankings, the best reputation management companies incorporate user-generated content into your Google My Business page and other marketing campaigns.
Increase Your Profits
Web reputation management is crucial for protecting your brand image and obtaining new customers, whether you own an eCommerce store, a multi-location organization, or a classic brick-and-mortar store. According to the Research Center, online reviews boost conversions by 270 percent. Furthermore, corporate reviews can raise conversion rates by 380 percent for higher-priced products. You can strengthen your prospects' relationships and take advantage of the multiple interaction channels available with search engine reputation management to turn them into paying clients.
Why should hire our Reputation Management?
Brand reputation management is essential for digital success. People go to the internet first when they need information on a person, company, product, or service, and reading online reviews is a key part of their online research.
It's critical to keep an eye on your online reputation and handle reviews if you want to represent your organization properly.
Our reputation management services have evolved and been modified through time to provide our clients with the best online reputation management that meets their marketing goals and industry guidelines.
We begin by managing our reputation. services, which eliminate negative web articles about your company. We use approaches like review improvement, rating improvement, and establishing content strategies to support your business to increase the visibility of your positive online material.
As your company receives additional reviews, we keep tracks, her, their, etc. track those that appear on search engines to control customer perception. The key to successful search engine reputation management is addressing or mitigating search results.
Conclusion
Reputation management allows you to protect and grow your business reputation publicly.  Its helps you to maintain a good reputation among people and help you to grow your business rapidly. Controlling your reputation, on the other hand, allows you to create a slew of positive, high-quality assets that reflect your brand.
Through our marketing firm, we are dedicated to assisting businesses in increasing their brand awareness. Reviews, in combination with our reputation management organization, provide online reputation services that boost the possibility that your prospects will choose your company on height. After watching all figure and facts the reputation management is compulsory for your business like advertisements.
1) What is reputation management?
Reputation management is the process of protecting an individual's, company's, or organization's online image to change public perception. Internet reputation management guarantees that the correct materials are found when individual people search engines hunt for your brand online.
2) Why should hire a reputation management service?
Digital success needs brand reputation management. When people need information on a person, company, product, or service, they turn to the internet first, and reading online reviews is a big part of their online research. Online reputation, touring, and review management are essential for appropriately representing your company.
3) How does reputation management assist you in obtaining good feedback?
A reputation manager guarantees that your company receives a consistent supply of verified internet evaluations to assist customers in making educated purchasing decisions. Advanced reputation management technologies will be used by a reputation management company to develop your review producing plan and obtain honest online evaluations from delighted customers.